Working out while wearing a waist trainer is a great way to enhance your routine and give yourself every edge to achieve the result you want. Humans have been using various methods and supplements to get the best possible results while working out for as long as we can remember and this is no different. These tummy-tightening shapewear garments help strengthen your core and ab muscles, increase your sweating while providing the compression and posture correction you need to take your workout to the next level.
But this method comes with a few important rules you need to know and keep in mind before you try it and commit to it.
Here are 6 key points you need to know about wearing a waist trainer while working out and it could be life-changing.
Things to remember when working out in a waist trainer
It's Not for High-Intensity Workoutt
If you're planning on going hard at a HIIT (high-intensity interval training) workout or even sweating it out during a miles-long run on the treadmill, we recommend leaving the waist trainer at home. On the other hand, wearing one while you lift weights is a great idea because it helps you maintain a long, strong, and straight posture while you crush your personal best. A waist trainer that is too tight can make it hard to breathe, so it's a not a good idea for lots of cardio.
2. Compression Is Ally
Choosing a waist trainer with high compressionis your best bet if you want to take advantage of all the great benefits of compression. Wearing a compression garment can help increase circulation throughout your body, which means more oxygen and nutrients are getting delivered to where you need them the most. At the same time, better circulation means better recovery, which is great news if you tend to get sore afterwards.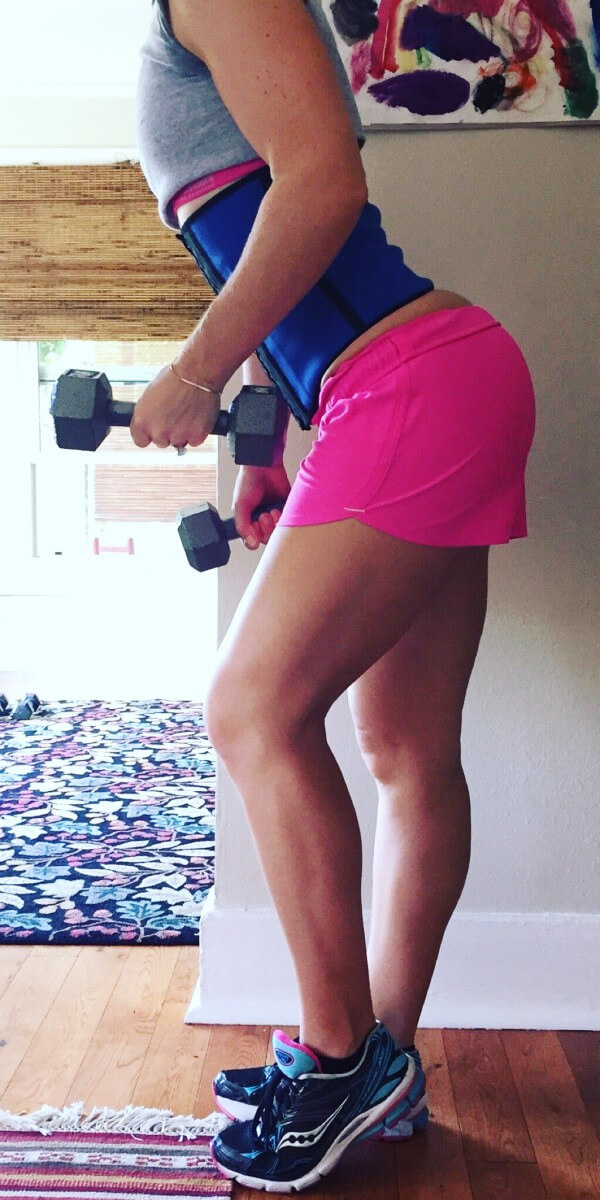 Experiment with Sizing and find the Right one
First point to take into consideration is that shapewear in general does not follow regular clothing sizes. So, even if you normally wear size L for shirts, that does not mean a waist trainer in size L will suit you. Also, we recommend that you choose a waist training garment that has multiple options for custom-like sizing, such as hook and loop closures featuring multiple sizing options, like the ones on our waist trainers. You not only want to be able to adjust so that you feel totally comfortable and supported as you do various activities, but also so your trainer still fits even when your body changes. It's best to wear your waist trainer as tight as feels comfortable. But going too tight will restrict your movement, potentially leave behind skin mark, or most importantly – restrict your breathing. And that would be contra productive, as – if you cannot breathe freely – you cannot exercise to your full potential.
4. Sweat = Breakouts
Because the waist trainer sits so close to your skin, it will cause you to sweat more than usual. This is great news for burning those excess kilograms but can make your trainer stink and, potentially, cause acne. If you are developing a skin reaction, you want to make sure you're taking some extra precautions to ensure that sweat doesn't sit on your skin and cause irritation or breakouts. Many people like to wear a slim workout tank underneath their waist trainers just to provide a barrier between the skin and the trainer (and to prevent it from getting gross and smelly).
5. Extra Care Is Key
As with any workout apparel, you want to make sure you properly wash your sweaty waist trainer so that it doesn't harbor bacteria and start to stink. Carefully washing and caring for your trainer will help ensure that it stays in great shape and doesn't cause irritation or breakouts. For the best results, always hand wash in cold or room temperature water while using a soft detergent and let the garment air dry.
6. There's a Limit to Everything
It is usually recommended to wear your waist trainer around 8 hours a day, but that recommendation is for daily wear – not in the gym. We also know, from experience, that some people make it a personal goal to use their waist trainer as much as possible, but we recommend that you give your body some breathing time before and after waist training at the gym. So, for example, if you are planning to workout today, make a break before and after the workout session and don't worry about how many hours you spent in your waist trainer. On your non-workout days, use your waist trainer as you would normally.
Like with everything in life, if you don't put the effort or do not use it or not use it properly – it will not give you results. The key is that you are persistent in your effort and mindful of your body. And when you notice the results of your work you will be motivated even more.
If you have any questions or you are new to waist training and have doubts or uncertainties – we are here for you. You can always  reach out to us and we will do our best to assist you.